"Kilig," a Filipino term used to describe one's feelings, is officially included in the Oxford English Dictionary (OED).
On Thursday, OED released a list of new word entries, containing over a hundred words.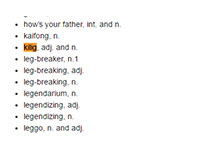 According to OED, kilig can be both an adjective and a noun.
Adjective: "Of a person: exhilarated by an exciting or romantic experience; thrilled, elated, gratified."
Noun: "Exhilaration or elation caused by an exciting or romantic experience; an instance of this, a thrill."
Citing an example, OED used the sentence  "kilig to the bones" as an adjective which means utterly thrilled or thrilling.
In 2015, OED  included 40 Filipino terms in their update, saying it's now recognized as the "definitive record of the English language."
It was the "largest single batch" of words from Philippine English to be recognized and "published at the same time" in the dictionary.
Source and image: Philstar
In this article
Other News